Brenda Fullick Wise, LMT, graduated from Body Wisdom Massage School in Urbandale. She completed the flower essence practitioner training offered through Spirit-In-Nature Essences (http://www.spirit-in-nature.com) before incorporating essences from other product lines. She now creates some of her own flower essences.
Brenda received her Reiki I and II attunements from Reiki Master Cindy Chicoine in Urbandale (http://www.healingpartners.biz). She has also studied traditional shamanism and offers Soul Retrieval.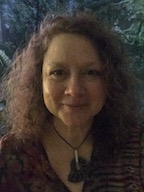 She is a gardener who attended local herbalism classes for years before attending regional workshops with internationally respected herbalists including plant whisperer Matthew Wood (www.woodherbs.com), fourth-generation Appalachian herbalist Phyllis Light (www.phyllisdlight.com), clinical herbalist and researcher Dr. Christopher Hobbs (www.christopherhobbs.com), Native American herbalist Karyn Sanders (www.blueotterschool.com) and aromatherapist Kathi Keville (www.ahaherb.com).
She is currently studying CranioSacral Therapy, a subtle form of bodywork developed by the late osteopath Dr. John Upledger, through the Upledger Institute (upledger.com).
She is a member of the Associated Massage & Bodywork Professionals, United Plant Savers and the American Herbalists Guild.
She holds a bachelor's of science in journalism degree from Northwestern University in Evanston, Illinois, and attended the graduate program in literary nonfiction writing at the University of Iowa in Iowa City.
Philosophy
A common theme in holistic health care is the idea that our minds, bodies and spirits are all connected. We can have a thought that causes an emotion, which then leads to an effect in the physical body. Massage can help release stored emotions that are held in our bodies and subconsciously affect the way we live our lives.
Brenda is interested in the way that repressed emotions can eventually show up as physical ailments. A handful (but growing number) of doctors and other healers worldwide are conducting contemporary research into this subject, relearning this ancient art of vibrational healing. If you'd like to explore how your physical pains may stem from emotional issues, she'd be happy to help you explore this.
As modern humans, we suffer a great deal of collective angst from our general disconnect from Nature. When we rekindle our sacred bond with plants, we can heal our bodies as well as our hearts. As powerful herbalist Rosemary Gladstar puts it: "Talking to plants is one way of talking directly to Spirit."