Welcome! Green Thumbs Massage is based in Winterset, Iowa, right in the heart of Madison County, a place blessed with gently rolling land and cotton candy sunset skies. This massage practice combines comforting bodywork techniques with gentle folk herbs that have been used for centuries (and often longer) to help the body relax, revive and renew itself.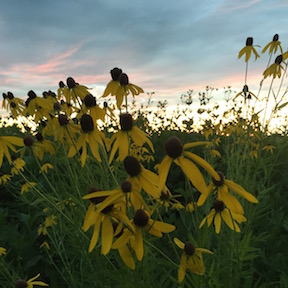 Even though we can't explain it exactly, every gardener knows that plants have a mystical way of making us feel better. Simply sitting near a tree, listening to the grasses, can help us relax and somehow breathe easier. But many nature lovers aren't aware of the ways that therapeutic massage can also be used to help us relax, minimize stress, relieve pain, recover from injury, increase joint mobility, and hopefully avoid the surgeries and long-term pain that can be caused by overly tight muscles.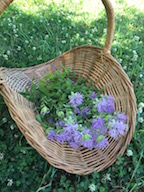 Like many Iowans, I am enchanted by nature, and I have been dabbling in herbalism for years. When I decided to become a massage therapist, I knew that I could deepen the experience and healing potential of therapeutic massage by incorporating traditional medicinal plants, custom blending the herbs for each individual client.
Every time you come for a massage treatment, we can select specific infused oils, essential oils, teas and flower essences to enhance your overall experience, based on your current physical and emotional needs.

I can chat with you to help you decide which form of bodywork would be most helpful to you. And, if you like, I can suggest ways to incorporate herbs into your lifestyle based on what might be the most supportive to you at this point in your life's journey.
Please feel free to contact me at greenthumbs@massagetherapy.com. But the quickest way to reach me is by phone, 515.468.5533. Hours are by appointment.
Take care and be well!
— Brenda Fullick Wise, LMT